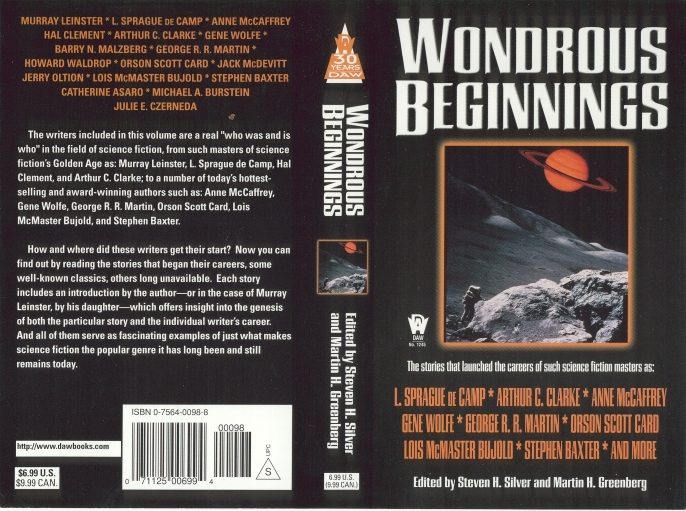 The cover illustration combines a photograph of Saturn from Voyager 2 with an image of Apollo 17 astronaut Harrison Schmitt taken by Eugene Cernan.
Table of Contents
Murray Leinster, The Runaway Skyscraper, 1919
L. Sprague de Camp, The Isolinguals, 1931
Anne McCaffrey, Freedom of the Race, 1953
Hal Clement, Proof, 1942
Arthur C. Clarke, Loophole, 1946
Gene Wolfe, The Dead Man, 1965
Barry N. Malzberg, We're Coming Through the Windows, 1967
George R.R. Martin, The Hero, 1971
Howard Waldrop, Lunchbox, 1972
Orson Scott Card, Ender's Game, 1977
Jack McDevitt, The Emerson Effect, 1981
Jerry Oltion, Much Ado About Nothing, 1982
Lois McMaster Bujold, Barter, 1985
Stephen Baxter, The Xeelee Flower, 1987
Catherine Asaro, Dance in Blue, 1993
Michael A. Burstein, TeleAbsence, 1995
Julie E. Czerneda, First Contact, Inc., 1997

The writers included in this volume are a real "who was and is who" in the field of science fiction, from such masters of science fiction's Golden Age as: Murray Leinster, L. Sprague de Camp, Hal Clement, and Arthur C. Clarke, to a number of today's hottest-selling and award-winning authors such as Anne McCaffrey, Gene Wolfe, George R.R. Martin, Orson Scott Card, Lois McMaster Bujold and Stephen Baxter.

How and where did these writers get their start? Now you can find out by reading the stories that began their careers, some well-known classics, others long unavailable. Each story includes an introduction by the author--or in the case of Murray Leinster, by his daughter--which offers insight into the genesis of both the particular story and the individual writer's career. And all of them serve as fascinating examples of just what makes science fiction the popular genre it has long been and still remains today.
Wondrous Beginnings was released from DAW Books in January, 2003. It is DAW book number 1245. ISBN: 0-7564-0098-8. $6.99. 316pp.
To order from Amazon: or search on Abebooks:

Return to