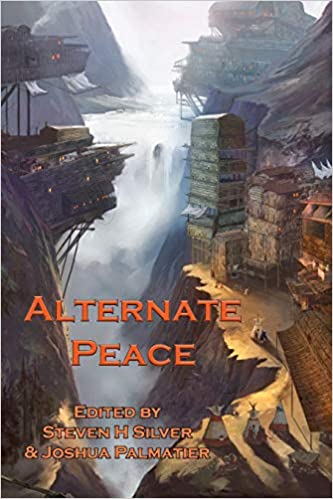 Table of Contents
Elektra Hammond, O-Rings
Dale Cozort, A Dad Ought to Have Nightmares
Harry Turtledove, Election Day
C.W. Briar, A Fine Line, Indeed
Rick Wilber, Donny Boy
Juliet E. McKenna, The Echoes of a Shot
Michael Robertson, What Makes a Better World
Kat Otis, Field of Cloth of Gold and Blood, Sweat and Tears
Kristine Kathryn Rusch, Politicians, Lost Causers, and Abigail Lockwood
Brian Hugenbruch, Or, the Modern Psyche
Stephen Leigh, Easter Rising
Elizabeth Kite, The Sisters of the Hallowed Marsh
Ian R. MacLeod, Selkie
Mike Barretta, New Moon, Dark Skies
Kari Sperring, His Master's Voice
Alternate histories. Alternate realities.
It's said that every choice creates multiple timelines, each one exploring what could have happened if a different decision had been made. Most of these alternate histories stem from different outcomes to a pivotal battle, or to an assassination attempt, or to the ending or escalation of a war. All violent, all bloody, all brutal. But what about those choices made during peacetime, when there was no monumental, ongoing conflict? After all, everyone knows how significant the flutter of a butterfly's wings can be, how far-reaching its effects can be felt.
In these pages you will find fifteen new branches of history written by some of today's greatest science fiction and fantasy writers, all stemming from a peaceful divergence in our past. Join them as they wander down familiar paths…and then swerve down roads not taken.
Alternate Peace was released from ZNB Books in June, 2019. It is ZNB Books Collectors #15. ISBN: 978-1-940709-26-0. $16.99. 260pp.
To order from Amazon:

Return to