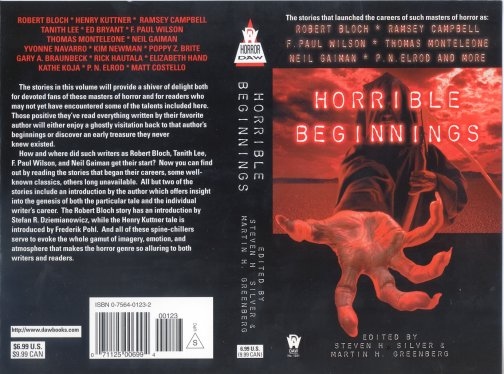 Table of Contents
Robert Bloch, Lilies, 1934
Henry Kuttner, The Graveyard Rats, 1936
Ramsey Campbell, The Church in High Street, 1962
Tanith Lee, Eustace, 1968
Ed Bryant, They Come Only in Dreams, 1970
F. Paul Wilson, The Cleaning Machine, 1971
Thomas Monteleone, Agony in the Garden, 1973
Neil Gaiman, The Case of Four and Twenty Blackbirds, 1984
Yvonne Navarro, Surprise Fall, 1984
Kim Newman, Dreamers, 1984
Poppy Z. Brite, Optional Music for Voice and Piano, 1985
Gary A. Braunbeck, Amymone's Footsteps, 1986
Rick Hautala, Colt .24, 1987
Elizabeth Hand, Prince of Flowers, 1988
Kathe Koja, Distances, 1988
P.N. Elrod, The Wind Breathes Cold, 1992
Matt Costello, Deep Sleep, 1992

The stories in this volume will provide a shiver of delight both for devoted fans of these masters of horror and to readers who may not yet have encountered some of the talents included here. Those positive they've read everything written by their favorite author will either enjoy a ghostly visitation back to that author's beginnings or discover an early treasure they never knew existed.

How and where did such writers as Robert Bloch, Tanith Lee, F. Paul Wilson and Neil Gaiman get their start? Now you can find out by reading the stories that began their careers, some well-known classics, others long unavailable. All but two of the stories include and introduction by the author which offers insight into the genesis of both the particular tale and the individual writer's career. The Robert Bloch story has an introduction by Stefan R. Dziemianowicz, while the Henry Kuttner tale is introduced by Frederik Pohl. And all of these spine-chillers serve to evoke the whole gamut of imagery, emotion, and atmosphere that makes the horror genre so alluring to both writers and readers.
Horrible Beginnings was released from DAW Books in March, 2003. It is DAW book number 1251. ISBN: 0-7564-0123-2. $6.99. 320pp.
To order from Amazon: or search on Abebooks:

Return to