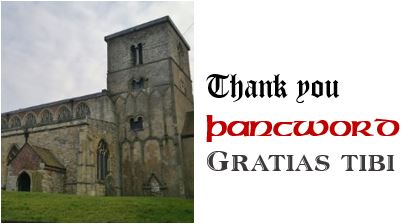 There are, of course, many people I would like to thank you have helped me with After Hastings over the years.

During a book signing at Windycon, Walt Boyes kept me company and, upon seeing the chapbooks I was selling asked if I might have anything appropriate for Eric Flint's Ring of Fire Press. I promised to send him a copy of After Hastings and you can probably figure out how that turned out. Eric Flint, of course, who was sitting next to me during that fateful day. Gorg Huff, who produced the book, and Elektra Hammond, who tried to catch all of my inconsistencies and typos. The remaining ones are, of course, entirely my fault.

When I started writing After Hastings many years ago, I expected it to be a short story and, when I thought I finished it, I sent it to Algis Budrys, who returned it with a note sayings, "It is too long for a short story and too short for a novel, either lengthen it or shorten it." The smart choice would have been to cut some of the story. Instead, I added 95,000 words to it. Thank you, AJ. I miss you.

Other authors and editors have given me encouragement and inspiration over the years. Some of them know what they did, others may not, but I'd like to thank Stephen Baxter, Bill Fawcett, Jim Frenkel, Rory Harper, John Helfers, Jody Lynn Nye, Mike Resnick, Joel Rosenberg, Robert J. Sawyer, Shelly Shapiro, S.M. Stirling, Joan D. Vinge, and Gene Wolfe for reading parts or all of the novel and giving me their feedback. I may not have incorporated all of your advice into the novel, but I appreciate that you took the time to read the novel and offer suggestions.

My earliest readers included Kate Barrow and Pat Sayre McCoy, who got to read the Saturday matinee version that ended with cliffhangers because I gave them pieces of the novel as I finished them, and occasionally had no idea what was going to happen next, or simply hadn't gotten around to writing them. I'd also like to thank Kate Baker and Terra LeMay for more recent encouragement. This book could not have been written without some amazing professors, and I'd also like to thank C. Clifford Flanagan, Peter Elmer, Sheila Lindenbaum, Brian Simmons, Pamela Tudor-Craig, Lady Wedgwood, and especially Dyan Elliott and Leah Shopkow, who made my life so miserable in the best possible way, leading me to start writing After Hastings in my "free" time.

Of course, I couldn't have written After Hastings without the support of my family. Thank you to Sharon and David, Gail and Ernie. Deanna Jacobson: I know you tried to get me to change those descriptions, but they are still here. I'll make you a deal, when you write your novel, you can ignore my advice. Thanks to Robin and Melanie, who weren't here when the journey began, and, as always, to Elaine, who was, and who makes every journey more wondrous.